Instilling Beauty & Confidence
WeGlobe is Malaysia's Leading Hair Care & Personal Care Expert With Over 20 Years of Experience & Trusted by Thousands of Hair Salon's Across Asia. Quality Don't Have to Cost a Fortune – Try Our High-End Natural Hair Care Solutions at Affordable Prices & Feel The Difference.
Professional Salon products - Wellsen Hair Care Series
WeGlobe, Bringing All Natural Hair Solutions to You 
Breathe life into your hair with affordable, salon quality, natural hair care products including hair shampoo or conditioner which are the ultimate solution to your common hair problems. 
Shop Wellsen now
We deliver Quality & Natural Ingredients in every product
Marula Oil 
Containing rich, powerful antioxidants which tackles bacteria and common scalp issues while supporting hair growth.
Organic Chamomile
Reduce the possibility of dandruff, split ends and promotes healthy hair growth with the help of cooling, soothing ingredients infused in the formula. 
Olive's Omega 3
Fixes dry or damaged hair to restore your hair to its original, natural state thanks to the moisturising and soothing properties. 
Our Customers love our products 🖤
Your Wellsen hair care products are superb! They ensure that my hair always compliments with my appearance and hence, boosts my confident and self-esteem. Thank you for making great shampoo products, I intend to be a repeating customer for years to come. Kudos!

Anders Thage
I have started to use your hair clay wax and hair shampoo after a recommendation from a hair spa owner. Very impressive! Now, I am recommending them to my friends. They have started to use your hair care products ever since.

GM Tan
I had issues with hair shampoos and other hair care products. They made my hair either too oily or dry. But that was in the past. I have been using your hair shampoos and balsam products for a year. Now, my hair is healthy, and my past issues are gone. I am totally 100% satisfied and my hair smells so good! Best :)

Vivien Oles
latests tips on hair care
---
We are featured in BFM 89.9
Ms. Seng Sin Mon, the Director of Wellsen, had the privilege of being interviewed by BFM for their renowned podcast, HerVantage. The episode titled "Crowning Glory" was broadcasted on 24th May 2023, showcasing Ms. Seng's invaluable insights and experiences.
During the interview, Ms. Seng not only delved into Wellsen's history and its local and global presence but also shed light on LadyFirst and Genkikuma, two distinct brands that cater to different audiences and needs. This diversification has enabled us to expand our customer base and meet the requirements of a broader range of customers.
This remarkable opportunity serves as evidence of the industry-wide recognition and respect that Wellsen has earned. We are greatly inspired to maintain our commitment to excellence in everything we do.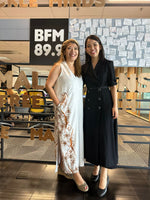 WeGlobe's Office Location
Block 41 & 43, Jalan BRP 6/10, Bukit Rahman Putra, Seksyen U20, 47000 Sungai Buloh, Selangor Darul Ehsan
Mon - Fri : 8AM - 6PM
Contact us : +603-6156 4661 / +60 18 -9014661